VONDOM
regular price
Offer price
1.825,00 €
Unit price
by
Offer
Exhausted
Sofa
of modern design and high resistance for the exterior of the brand
VONDOM
Perfect for creating unique environments in your garden or terrace.Discover the entire
frame
collection of outdoor furniture. Available in different colors. Manufactured in rotational molding of high-resistance polyethylene resin reinforced with fiberglass and UV treatment. Contact us if you want a cushion or a special finish.
Designed by Ramón Esteve
Dimensions: 82x180x80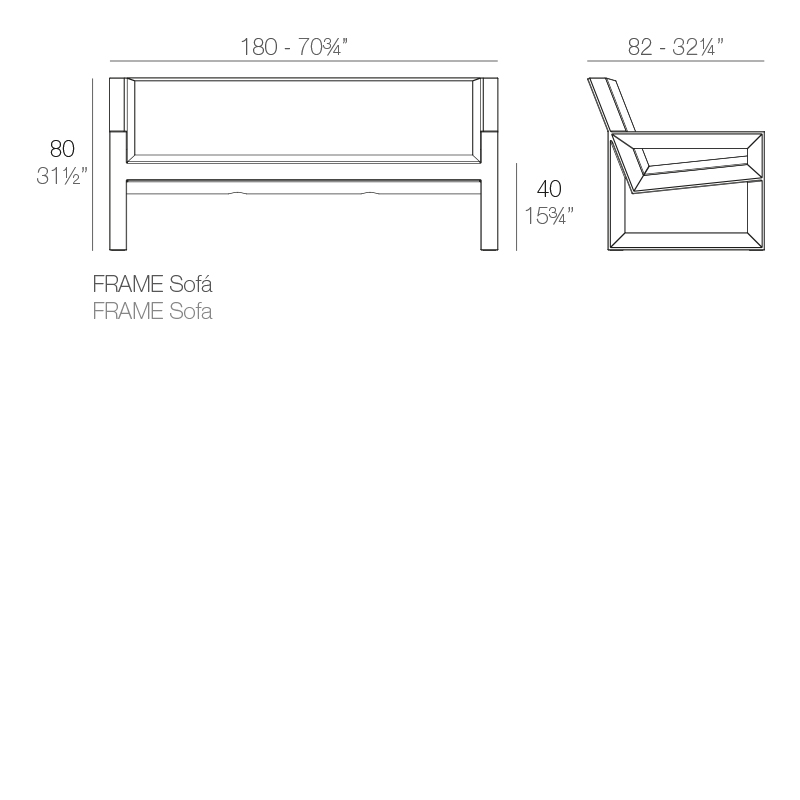 Includes Cushion
Delivery in 21 days*

*Approximate delivery date.

This product is made to order. You will receive confirmation of the delivery date and tracking code when the order has been manufactured.
Material

- 100% Recyclable

- Manufactured by rotational molding of high-resistance polyethylene resin reinforced with fiberglass and UV treatment.

- Suitable for outdoor and indoor use
Free shipping*

On orders over €200 in Spain and €500 for the rest of Europe.
Producto personalizado

Este artículo es un producto personalizado y se fabrica expresamente bajo pedido.

Consulte nuestra política de reembolsos y garantía.
See all the details
finishes
Colors

100% Recyclable. High resistance Polyethylene resin with UV protection to avoid deterioration due to sun exposure.
Quilting Fabrics

It has a wide variety of high-quality fabrics suitable for outdoor use.

Default fabrics.

Each base color of the furniture is assigned a fabric of the same color. However, you can combine the colors as you like, playing with the textures, finishes and color contrasts.

How to request a specific fabric?

If you want a specific fabric from our catalog for your padding, you can indicate it in the comments during the ordering process or by contacting us at info@arqibo .com, calling (+34) 960730092 or through Whatsapp.

Available fabrics

:

Nautical is a smooth fabric with an imitation leather texture. Fabric highly resistant to intensive use and its use is widespread in the nautical field.

Silvertex is a very fine, single-colour knitted fabric. With a very soft touch to the skin and. Fabric highly resistant to intensive use and easy to maintain.

Crevin fabric consists of a medium size double cord weave. Both the cords and the threads are combined in color to result in fabrics with great detail and dynamism.

The Savane fabric is manufactured by the prestigious outdoor fabric firm Umbrella. It is a medium and irregular knit fabric with a very soft touch.

The Heritage fabric is made of 50% recycled material and manufactured by the prestigious outdoor fabric firm Umbrella. It is a medium irregular knit fabric with a semi-rustic appearance. A fabric with a very Mediterranean style and respectful with the environment.

Cico is a new creation of the Vondom brand. It consists of a medium but long knitted fabric that combines wefts and warps to create a surface full of details and with very elegant colours.

Siesta is the latest addition to the catalogue, it is a Premium fabric with a mid-interlace knit that combines cords and threads of different colors to create a nuanced, soft surface with a very elegant and contemporary aesthetic.




If you want more information, you can contact us at info@

arqibo

.com, by calling (+34)960730092 or through

Whatsapp

.
Vondom is a prestigious manufacturer of outdoor furniture specialized in manufacturing with high quality resin, metals and fabrics. At its facilities in Valencia, Vondom collaborates with many of the most renowned international designers to create pieces of furniture with a modern, elegant and high-quality design.
Ramon Esteve
Valencian born in Ontinyent in 1964, he obtained the title of Architect from the Superior Technical School of Madrid in 1990 and in 1991 he founded "Ramon Esteve Estudio de Arquitectura", today he is one of the most notable representatives of contemporary architecture in Valencia. "Architecture and design are for us complementary disciplines that are mutually enriching and that, in some way, are inseparable. We start any work paying attention to all the parameters that contain it with the aim of achieving a result with maximum clarity, simplicity, order and harmony.