VONDOM
regular price
Offer price
968,00 €
Unit price
for
Sale
Exhausted
Sunbed
of modern design and high resistance for outdoor use by the brand
VONDOM
.Perfect for creating unique environments in your garden or terrace.Discover the entire
PILLOW
collection of outdoor furniture.Available in various colors.Made of rotomoulded high-resistance polyethylene resin reinforced with carbon fiber glass and UV treatment. Contact us if you want cushion or a special finish.
Designed by Stefano Giovannoni
Dimensions: 90x195x61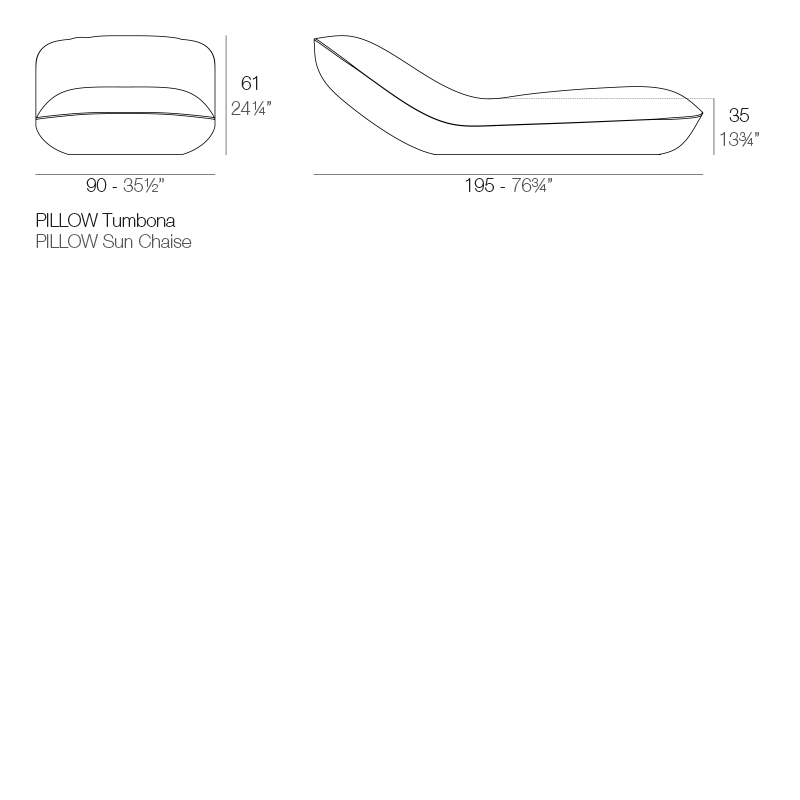 Delivery in 21 days*

*Approximate delivery date.

This product is made to order. You will receive confirmation of the delivery date and tracking code when the order has been manufactured.
Material

- 100% Recyclable

- Manufactured by rotational molding of high resistance polyethylene resin reinforced with fiberglass and UV treatment.

- Suitable for outdoor and indoor use
Free shipping*

On orders over €200 in Spain and €500 for the rest of Europe.
See all the details
finishes
Colors

100% Recyclable. High resistance Polyethylene resin with UV protection to avoid deterioration due to sun exposure.
Vondom is a prestigious manufacturer of outdoor furniture specialized in manufacturing with high quality resin, metals and fabrics. At its facilities in Valencia, Vondom collaborates with many of the most renowned international designers to create pieces of furniture with a modern, elegant and high-quality design.
Stefano Giovannoni
Nacido en La Spezia en 1954, arquitecto y diseñador alumno de Buti en la Universidad de Florencia. Crea, a comienzos de los '80, el grupo King-Kong Production junto a Guido Venturini. Giovannoni ha diseñado algunos de los productos más exitosos comercialmente del mundo, incluyendo las exitosas líneas de productos para el hogar de Girotondo y Mami para Alessi; Il Bagno también para Alessi, y la familia Bombo para Magis. De hecho, Giovannoni dice que ver los resultados de sus productos es aún más satisfactorio para él que los muchos premios de prestigio que ha ganado a lo largo de los años. "Es mi trabajo pensar en cómo se recibirá un producto en el mercado, y eso es algo que me tomo muy en serio". Proyectista metanoico por excelencia, lleva el diseño industrial en la sangre y tiene una capacidad de entender al público como pocos entre los diseñadores representados en este catálogo. Sus proyectos, comenzados con la bandeja Girotondo (1989, diseñado con Guido Venturini) y con los primeros objetos lùdicos de plástico de la serie Family Follows Fiction (1993), se articulan en una amplia familia de objetos en producción en los catálogos de Officina Alessi, Alessi.
See more products from Stefano Giovannoni