VONDOM
regular price
Offer price
468,00 €
Unit price
for
Sale
Exhausted
Planter Large modern design suitable for outdoor use and available with RGB LED light controlled by remote control or smartphone. Available in different sizes and colors.
Dimensions: 60x60x100 cm
Designed by Javier Mariscal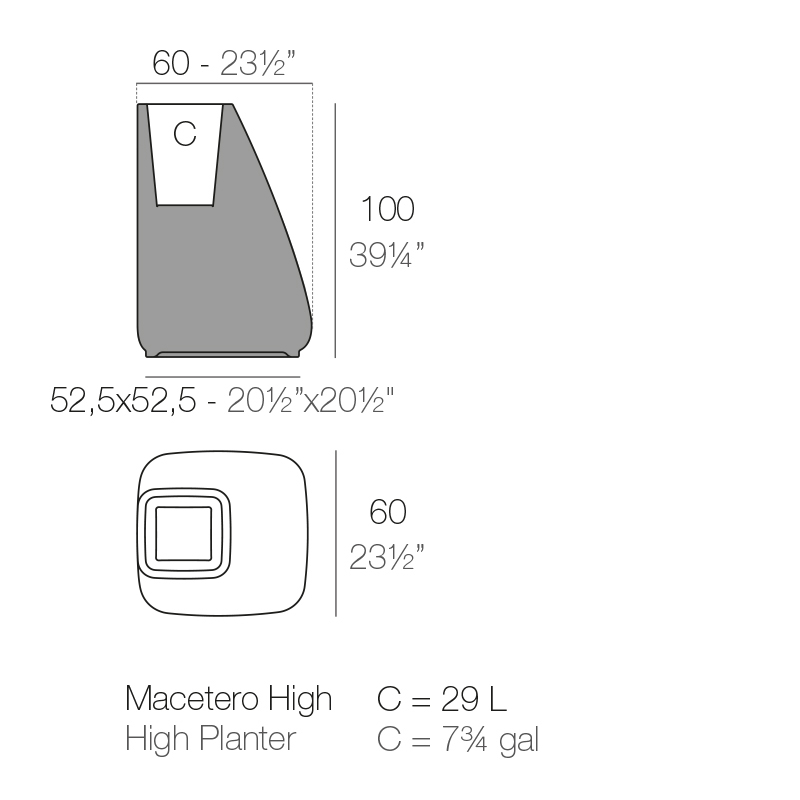 Entrega en 21 días*

*Approximate delivery date.

This product is made to order. You will receive confirmation of the delivery date and tracking code when the order has been manufactured.
Material

- 100% Recyclable

- Fabricado por rotomoldeo de resina de polietileno de alta resistencia reforzada con fibra de vidrio y tratamiento UV.

- Suitable for outdoor and indoor use
Free shipping*

On orders over €200 in Spain and €500 for the rest of Europe.
See all the details
finishes
Colors

100% Recyclable. High resistance Polyethylene resin with UV protection to avoid deterioration due to sun exposure.
Vondom es un prestigioso fabricante de mobiliario de exterior especializado en la fabricación con resina, metales y tejidos de alta calidad. En sus instalaciones en Valencia, Vondom colabora con muchos de los más reconocidos diseñadores internacionales para crear piezas de mobiliario de diseño moderno, elegante y de alta calidad.
Javier Mariscal
Javier Mariscal (Valencia 1950) is a Spanish designer whose activity is linked to a wide range of disciplines within design. He was born into a large family in the darkest days of the Spanish post-war era. The Mediterranean, the lagoon, the light, the friendships, the bars, the streets and the joy of living have irrevocably marked his professional and personal career. In 1979 he designed the Bar Cel Ona logo, a job that brought him popularity. The following year, he opened in Valencia the first bar signed by Mariscal, along with Fernando Salas, the Dúplex, for which he designed one of his most famous pieces, the Dúplex stool, a true icon of the eighties. In 1989 Cobi was chosen as the mascot for the Barcelona 1992 Olympic Games. The mascot was welcomed with great controversy due to its disruptive image, although time proved its creator right and now Cobi is recognized as the most profitable in the history of the modern Games.
See more products from Javier Mariscal